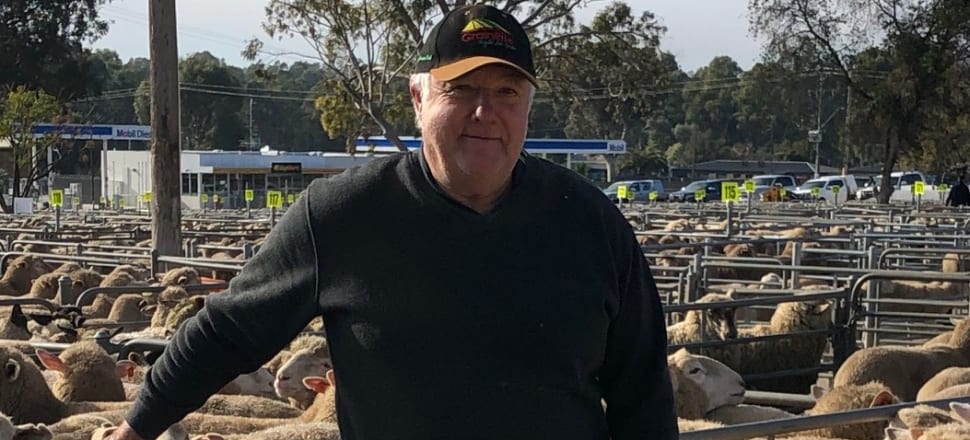 5370537724001
Corowa Top Results
Shorn Lambs
40 Mickan Bros Walla Walla $350
217 PG & CF Beckett Pleasant Hills $330
71 MWC Trading Howlong $290
23 Daisy's Pastoral Porepunkah $288
24 North East Water Wangaratta $285
12 J, E & A Schulz Jindera $285
95 AP & RB O'Keefe Culcairn $278.20
10 CW Coyle & Sons Barnawartha $276.20
36 KW & IM Thomas Walla Walla $272.20
52 NR McKenzie & Son Corowa $270
15 T & E Grazebrook Goorambat $270
30 Mission Ent Talgarno $262
41 Richard Marshall Berrigan $261
Merino Lambs
50 NJ & EE Macartney Coreen $226
103 Hood & Lundie Deniliquin $220
14 Stacey Bros Tungamah $207
39 Richard Marshall Berrigan $197
66 K Ranson Byawatha $195
73 P & JC Trevethan Corowa $178
XBred Ewes
82 CK & DE Dunn Culcairn $240
28 Lislea Lodge Picola $240
18 Daisy's Past Porepunkah $240
16 I & S Vincent Chiltern $235
17 L M Coulston Lucyvale $210
Merino Ewes
44 NR McKenzie & Son Corowa $189.20
28 Hermiston Ag Mulwala $187
16 R G Thomas Mulwala $187
25 H C Gleeson Yerong Creek $179.20
11 JB & MC Conroy Bungowannah $176.20
97 Gedde's Past Holbrook $170.20.
Corowa Market held on Monday, 17 June with 11,300 lambs yarded a decrease of 1,230 from previous market, 3,000 sheep yarded a decrease of 370.
There was only a slight reduction in numbers.
The quality was again very good, with plenty of lambs coming off feeders.
Trade and heavy lambs were best supplied and there was a pen of extra heavy lambs' weight from 95kg live weight and heavier that returned $350/head, which is a new record price.
Light lambs were limited and there was a larger draft of prime merino lambs.
The market sold to a dearer trend.
The 2 score processing lambs were $14 dearer, making from $120 to $166/head.
Trade lambs to 24kg cwt were $7 to $8 dearer, making from $171 to $240/head, averaging from 900c to 930c/kg cwt.
Heavy lambs 24-26kg gained $7, receiving from $205 to $248 and lambs to 30kg sold up to $285/head.
The extra heavy lambs made from $270 to $350/head.
Merino lambs were $20 dearer, with the heavy merino lambs making from $155 to $220/head or averaging close to 830c/kg cwt.
Hoggets sold to $225/head.
Mutton numbers were steady and the quality was mixed.
Light sheep sold to a dearer trend, while the heavy sheep were firm.
Heavy crossbreds sold from $186 to $240 and merino ewes reached $190/head.
Carcass prices averaged approximately 660c/kg cwt.