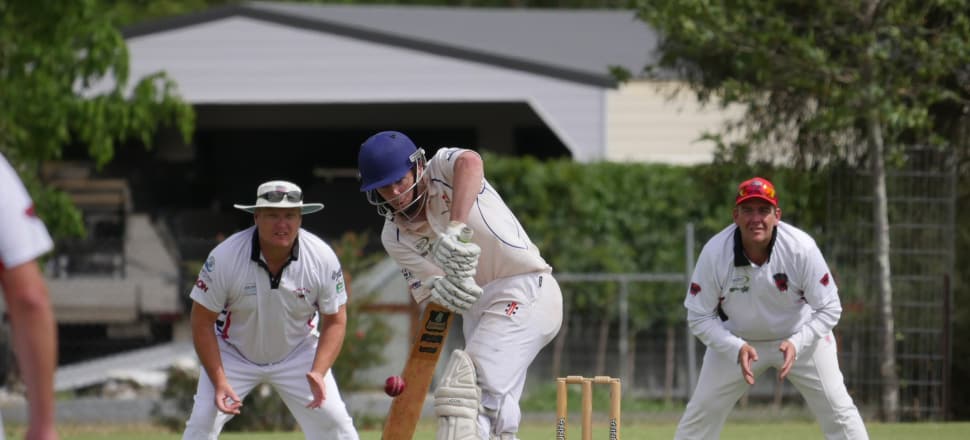 5370537724001
Corowa's A Grade cricketers are making a welcomed rise up the Cricket Albury Wodonga – First Grade ladder after dismissing Howlong away on the weekend.
The clash proved to be the Roos' third win in as many weeks following a quiet start to the season.
Mid-week rain made for a damp deck against the Spiders and early bowling was a tad short, allowing the Howlong openers to get away to a brisk start.
A wicket to Joey Hansen and the introduction of Mark Athanitis and Gabby Sutcliffe turned the game on its head.
From 0/15, the spiders were reduced to 6/29 as Athanitis and Sutcliffe grabbed two wickets each with their tight bowling.
Some late resistance from the experienced Aaron Hoskin allowed the home side to reach 112 before the innings was mopped up by Dan Athanitis, Luke Backhouse and Hansen.
The boys (and girl) were in a hurry to get back to Ball Park as they chased down the required runs in 22 overs.
Matt Grantham and Nathan Rhodes continued their stellar form with 47 (no out) and 34 (not out) respectively.
It was another excellent win for the Roos who are now three points clear of upcoming opponent Dederang in sixth spot on the ladder, making this week's clash at Ball Park crucial.
Scores: Corowa 2/114 (22.1 overs) – AR Hoskin 1/9, D Keenes 1/29 defeated Howlong 9/112 (45 overs) – J Hansen 2/23, M Athanitis 2/11, G Sutcliffe 2/15, D Athanitis 2/16.
B Grade
B Grade returned to the winner's list with a seven-wicket victory over Howlong at Ball Park.
Bowling first, Corowa struggled for early wickets as Howlong put on 55 for the first wicket before the returning Greg Burgess got the initial breakthrough.
Scott Wilson got an early wicket and when Burgess collected another wicket, Corowa looked to be getting on top with Howlong 3/72 after 23 overs.
Howlong steadied and pushed the score along to 124 before Ryan Eyers and a great catch by Cath Wood got the breakthrough.
Eyers got another wicket with Corowa holding Howlong in the last few overs, as they finished their 40 overs at 5/142.
Burgess made a good return taking 2/16 off his eight overs, while Eyers took 2/32 off seven overs.
In reply, Corowa got to 24 in the fourth over before Burgess went for eight runs.
Shane Norman and Ryan Beveridge looked comfortable as the two added 80 runs, before Norman went for a well-made 60.
Youngster Beveridge went shortly after for 27. Another two youngsters in Matthew Bush (15 not out) and Will Seymour (25 not out) safely saw Corowa to victory with six overs to spare as the home team finished at 3/152.
This Saturday sees the side take on Dederang at Dederang.
C Grade
C Grade had a bad day at the office against Belvoir going down by seven wickets.
Being sent in, Corowa crumbled as they were dismissed for just 33 in 15.4 overs.
No player made it to double figures and in reply Belvoir reached the total in 14 overs.
Mark Wallis collected two wickets to finish with 2/19 as Belvoir finished at 3/34.
This Saturday sees the side take on Lavington Panthers Black at Morris Park.
Under 16s
The Under 16s didn't get a start in their run chase of 120 against Wodonga due to a wet wicket.
Under 14s
In the Under 14s, Corowa Blue won its second game after defending 230 against St Patricks Green at Morris Park.
All the bowlers bowled tightly as they restricted St Pats to 6/106 off their 40 overs. Lachlan Raggett took 2/10 off six overs, while Blake Lewis, Jonathon Biddle, Brodie Julian and Ryan Glare all picked up a wicket.
Meanwhile, Corowa White also had a strong win with Baranduda making 5/180 in reply to White's 253 last week.
Josh Bruce took four of the five wickets to fall in his two over spell finishing with 4/13, while Jay Lavis took the other wicket.
Under 12s
Both Under 12s games didn't get a start due to the wet weather on Friday night.
Under 15s
The Under 15s girls went down in their game against Tallangatta in Albury.
Batting first, the girls batted well with Rebecca Carroll making 21 (not out), Lydia Ross-Anderson 15, Niamh Lavis 14, Colodagh Blain 12 and Bonnie Norman 12 (not out).
But the score was enough despite the effort of Rebecca Carroll with 3/18 and Lydia Ross-Anderson with 2/18.
The Club would like to acknowledge its sponsors for this season: Corowa RSL Club, Hotel Australia, David Lane Builder, Corowa Home Improvements, John Rhodes Bricklaying, Sportspower Corowa, Davidson White, Dunns Twin City Cranes, Kilara Group Corowa, A and A Auto, Corowa Furnishings and Floors/Corowa Betta Home Living, Rivalea, Meat on the Murray, Stockdale and Logo Corowa, Corowa Bakery, Pharmasave, Lawson Grains, BWS, Potts and Schnelle, Corowa Tree Care, GenTech Seeds, Bartletts Corowa Gas, Origin Clothing, Brian Eales Painting, Health Culture and Woolworths Corowa as well as the support of the Federation Council.