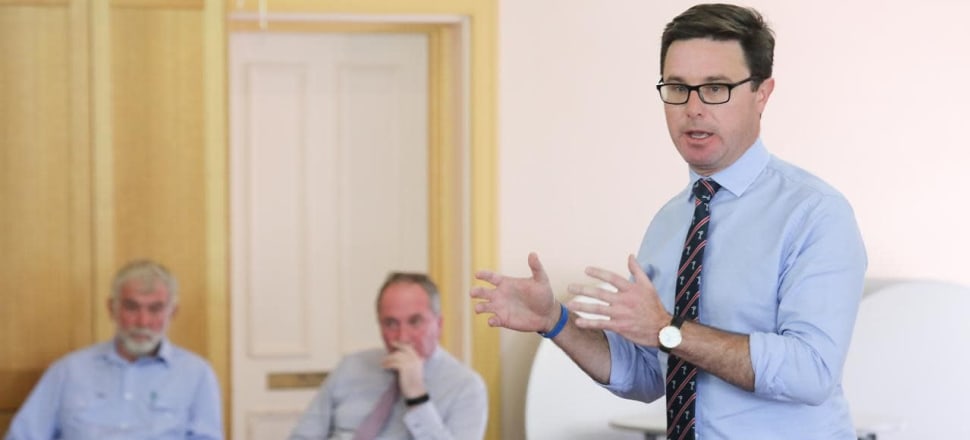 5370537724001
Local producers say it's hard not think decision makers on the Murray-Darling Basin Plan are avoiding them.
At least 100 producers and stakeholders gathered on the roadside beside the Merran Creek outside Swan Hill on Monday afternoon after learning, at the last minute, Federal Water Resourced Minister would be passing through the region.
They were left disappointed when they caught no glimpse of the minister, let alone being given the chance to express issues relating to the plan with him.
Mr Littleproud later explained to the Pastoral Times the schedule changed due to timing constraints.
But farmer John Lolicato said the feeling of avoidance expands beyond just this week.
He said it was disappointing to have no knowledge of the minister's basin tour, given a number of representative groups he is involved with had specifically requested a chance to discuss the plan and its impacts with him.
"I am on 13 different representative groups, and at least three or four of them have requested meetings with the minister," Mr Lolicato said.
"Those include requests from Southern Riverina Irrigators and the Wakool Rivers Association.
"We had heard he would be in the area and so we thought we would try to have a yarn on the side of the road.
"The fact that 100 people were there at the drop of the hat is an indication of the pain. We have crops dying already.
"We did get the chance to meet with (Victorian politician) Damian Drum on Tuesday, and I think he is really starting to realise things are very serious."
Mr Littleproud said he had a chance meeting with some of the Merran Creek crowd on Monday night in a local hotel.
The minister reiterated that while his is happy to speak with anyone, he is restricted when it comes to people associated with a Class Action against the Murray Daring Basin Authority.
If there are individuals within those organisations - and I met with some of those protesters at the pub and we had a conversation - I have no issue talking to anyone or any group.
"My only constraint is in talking to those that are directly involved in the Class Action, and by no means will I discourage anyone from being involved in it; that is their right.
"I am happy to sit down with anyone involved afterwards — win, lose or draw."
Mr Littleproud said the main aim of the three day basin tour - which included stops at Barmah, Echuca, Swan Hill and Albury - was to introduce Mick Keelty to the southern basin.
Mr Keelty has been the northern basin commissioner and is now interim Murray Darling Inspector General.
"It is important for him to understand they are two very different systems with different complexities," Mr Littleproud siad.
"The southern irrigators and the government need to trust each other when it comes to compliance.
"We also announced another $20 million to build on the science in the basin, which will give managers more information.
"We also announced yesterday (Tuesday) a triennial review of the costs associated with the plan."