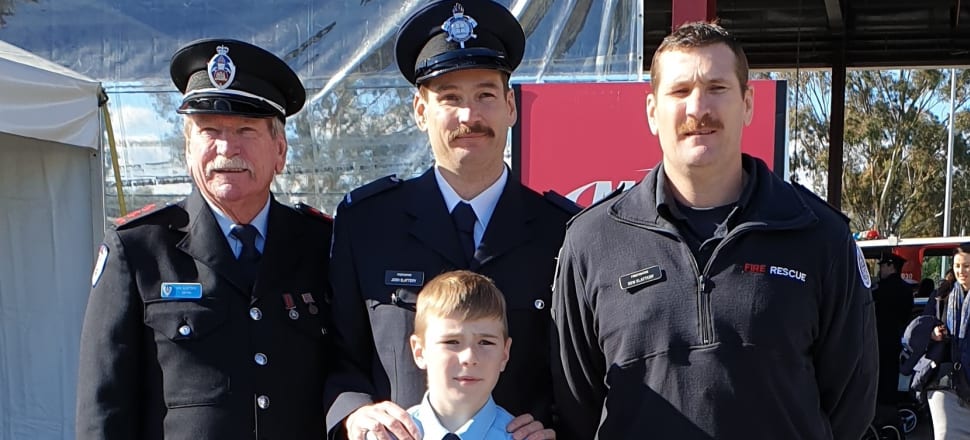 5370537724001
It was like father like son again in the Slattery family of Mulwala in Melbourne when Josh Slattery graduated as a fireman earlier this year.
Josh's graduation occurred on July 20 at the Victorian Emergency Management and Training Complex in Craigieburn.
An electrician by trade, the 35-year-old received his certificate jointly from CFA Chief Executive Officer Steve Warrington and his Dad, Vin Slattery in the company of MFB acting CEO Greg Leach.
To qualify, Josh completed a 20-week training course during which time his syndicate was awarded best syndicate.
He is now a MFB graduate at Eastern Hill Fire Station in East Melbourne. The central fire station is known as Fire Station 1 inside the Metropolitan Fire Brigade.
Josh's parents Helen and Vin attended Josh's graduation. Vin, of course, is Fire and Rescue NSW Mulwala Brigade's long serving firefighter and captain.
"The family is very, very proud to keep the tradition going," the much decorated local fire captain popularly known as 'Casey' told the Yarrawonga Chronicle.
Last December, at the same graduation venue in Melbourne, the Slattery's older son Ben, 38, a carpenter, graduated with the CFA, as reported in the Yarrawonga Chronicle at the time. Ben's son Max is also showing all the signs of becoming a fireman in due course.
Firefighting and protecting community are so important in the Slattery family, which had its firefighting origins with Casey's older brother Neville who also represented the town in football, as a ruck-rover.
"Neville was in the Mulwala Fire Brigade in the old volunteer days, from 1956 to 1959. He then went to Adelaide after Mulwala won the premiership in 1959," 68-year-old Casey said.
For the record, Casey, Ben and Josh all played over 100 games of football with the local Lions.