Juniors public speaking skills wow judges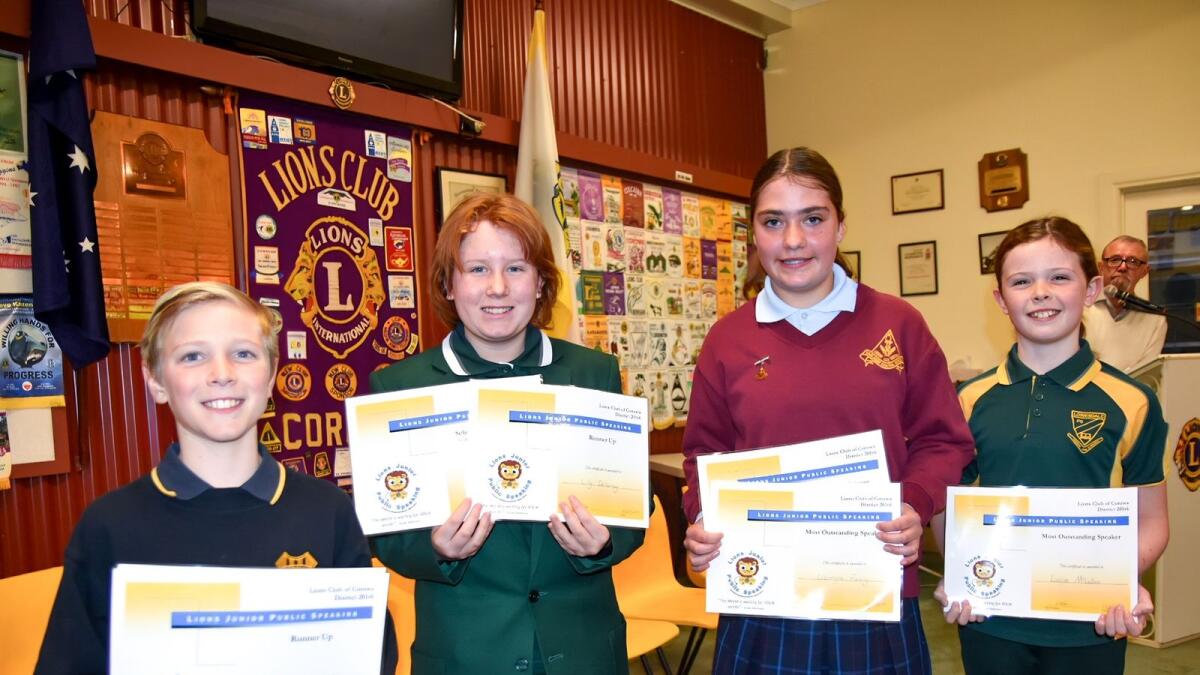 Local primary school students impressed judges with their public speaking skills at last week's annual junior public speaking contest organised and hosted by the Lions Club of Corowa.
The competition is run for primary students in years 3, 4, 5 and 6 and aims to give students a chance to develop their ability to speak confidently in public.
Students were invited from St Mary's Primary School, South Corowa Public School, Corowa Public School, Lowesdale Public School and Oaklands Central School.
Family, friends, and supporters gathered for a great afternoon of prepared and impromptu speeches from the young participants.
The junior students (years 3 and 4) were asked to present a three-minute speech about a place other than their home state that they would like to visit.
Students from years 5 and 6 were set a slightly more difficult challenge, asked to present a four-minute speech introducing a famous person who lived in the 19th century. Such figures included Marie Curie, Queen Victoria and Helen Keller.
Following the prepared speeches, the year 5 and 6 students were given 10 minutes to prepare for an impromptu speech.
The three judges, Craig Waldron, Josh Reid and Deb Stewart were particularly impressed by the older student's high level of research undertaken to present a great speech.
Wahgunyah Primary School Principal Josh Reid thanked the students for giving up their time to attend before presenting with a participation certificate.
"We were blown away by the confidence of all the students, especially with the impromptu speeches," Mr Reid said.
"Congratulations to all the students, you should be very proud of yourselves."
Lucia McLellan (Lowesdale Public School) was announced the Most Outstanding Speaker of the year 3/4 competition while Finley Douglas (Corowa Public School)was awarded runner up.
In the year 5/6 competition Georgia Fealy (Oaklands Central School) was crowned Most Outstanding Speaker and Lily Delaney (Corowa South) was awarded runner up.
Organiser for the event Stuart Whisson said a great day was had by all.
"This is a great event for the juniors in our region and an important event for the Corowa Lions Club," he said.
Following the competition, a lovely afternoon tea prepared by Lions Club members was enjoyed by all.