Corowa Rutherglen Junior Football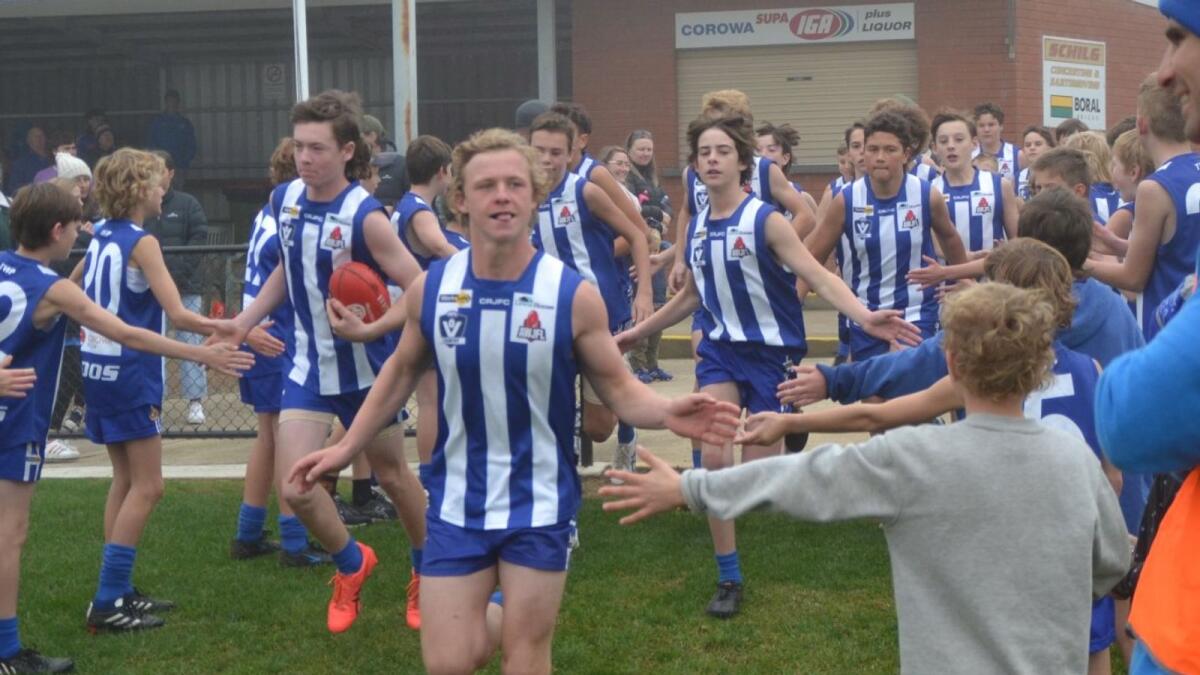 Under 12s
After a disappointing loss, the Roos boys were looking to bounce back with a strong showing against the Raiders.
The Roos started with great intensity, locking the ball in their forward half for most of the quarter resulting in an early goal to Josh Parker.
Ollie Mathews seemed to be everywhere down forward whilst Josh Hunter was going to work in the centre of the ground collecting the footy at will to drive it back into the forward fifty when it did make its way out.
Down back on the rare occasions it did get down there Hudson Kuschert was resolute on the half back line and rebounded the ball out well.
The 2nd quarter was also heavily contested and yet again the ball spent a lot of its time in the Roos forward 50. The problem was getting enough space in the 50 to kick a goal with nearly every Raiders player in their back 50.
The pressure was relieved when Ollie kicked an early goal and then got a score assist to Cooper Patten who also kicked a goal in the quarter.
The Raiders made more forays into their forward 50. When they took a mark in their forward 50, the Roos thought they would score their first goal.
In stepped Charlie Kay who took a strong contested mark on the goal line to blunt their attack and keep the Raiders goalless as the half time siren rang.
The 3rd quarter resembled a game of Auskick as the Raiders continued to flood the Roos forward line. It didn't help them much with the Roos scoring another two goals for the quarter. One of those was from Josh Parker with the opportunity created by a great tackle by Josh Hunter on the Raiders player in possession of the ball.
The last quarter saw the Roos kick another 2 goals 6 behinds.
The highlight of the quarter was a great intercept by Hudson about 45 metres from goal as the Raiders were trying to get it out of their back 50. Hudo ran on and kicked a beautiful running goal. These skills displayed where nearly as great as his celebration.
With the final siren sounding the Roos ran out winners 59 to 1 and face and inform Lavington next.
Goals: J Parker 3, C Patten 2, H Kuschert, H Webb, O Mathews
Awards: O Mathews (Corowa Upholstery), H Kuschert (Corowa Signs), J Parker (Moloney Real Estate), J Hunter (A&A Automotive), W Massey (Upton Engineering), C Kay (Joel Bilney), C Gerhard (Little Oasis Beauty), J Witherden (Bilney Builders)
Under 14s
The game against Wodonga Raiders Red was always going to be an uphill battle with a few players unavailable. The final score
Once again it was the Roos' brave leader Benji Hanrahan fighting hard all day, with dash out of the middle and driving the ball deep to give our forwards every opportunity to score.
Ashton Wynne and Hunter Hall provided the grunt and strength around the ground and a target at centre half forward.
Emmett Northey tried hard in the ruck and never gave up even though he was considerably outsized. Franklin Wright ( 4 goals) provided pressure up forward and on the scoreboard with some incredible snaps and a long goal from 40m out.
Lachy Witt was gutsy and battled well adding to an improved season output.
Final Score: Wodonga Raiders 13.9.87 CRFC 9.8.60
Awards: Dunkley Panels- Franklin Wright, WB Hunter- Lachlan Ireland, Amber Rose- Benji Hanrahan, Moloney Real Estate- Hunter Hall A & A Automotive- Ashton Wynne, Corowa Travel Link- Emmett Northey, Upton Engineering- Joe Lavis, Sportspower Corowa- Lachy Witt.
Under 16s
At home to fourth placed Albury, with the sun shining a ripping game of footy was the forecast and it was delivered by the young lads.
Captain Mitch Parker started the day by having to toss the coin by himself as Tom Forrest was unavailable.
After 8 minutes of no scoring, the Roos broke through via Mitch. It was as if the dam burst as 4 more followed in the next 8 minutes, Isaac Dickinson, Jack Eales finding their aim in front also.
The midfield feasting on Judd Kuschert's ruck work, Jaxson Bolger, Angus Massey and Jackson Hargreaves having terrific terms, quarter time it was Corowa 31 Albury 6.
But good sides regroup and respond, and they did. Albury was able to dominate the first 10 minutes of term 2, kicking 1 goal 3 behinds as we struggled to find a way forward.
Heads prevailed in the back half as Banger and Buddha withstood numerous attacks, Tom Ford and his fellow Rutherglen permit player Chuckles James across halfback were winners and the rebound and run started to wilt the Albury boys, Chuckles kicking a highlight especially his line breaking torpedo on the run.
Late goals to Isaac and Mitch stretched our lead to 44 to 15 at the half time break.
The 3rd term was the Jaxson Bolger show as he lit up John Foord Oval with 3 great goals in the first 6 minutes to put the game beyond doubt.
Caile Duryea was finding some of the footy and with Jack Eales controlling his forward position and also kicking a couple, Rory Beattie's influence in the ruck was not going unnoticed as the smaller players received some clever hits and punches to advantage, a great term for the side.
Benji Hanrahan was also introduced via the bench and had a solid term, so with a 71 to 34 lead at the last change.
Enter Harry Ireland, who was given free range in the last term to hit that score board and with his teammates help he did, a couple of points early, a couple of dropped marks, then the snap of the day under pressure. A massive result for the effort he puts in at training.
As Coach Rippingale beamed with pride and congratulated him, perhaps Harry should help with the quaddie picks for him, alas another day of no returns there for the quaddie king.
Great last terms from Jay Lavis, Judd Luschert, Isaac Dickinson and Blake Keenes would control an easy win 98 to 41.
Goals: Isaak Dickinson, 6, Jackson Bolger 3, Jack Eales 2, Mitch Parker 2, 1 each to Caile Duryea and Mr Collingwood Harry Ireland.
Awards: Mitch Parker, Jay Lavis, Jaxson Bolger, Isaac Dickinson, Angus Massey, Harry Ireland
A big thank you to sponsors Rivalea, Moloney Real Estate, Boyer Automotive, A & A Automotive, Peter Ellis, Upton Engineering and Sportspower.