Junior Cats celebrate 2021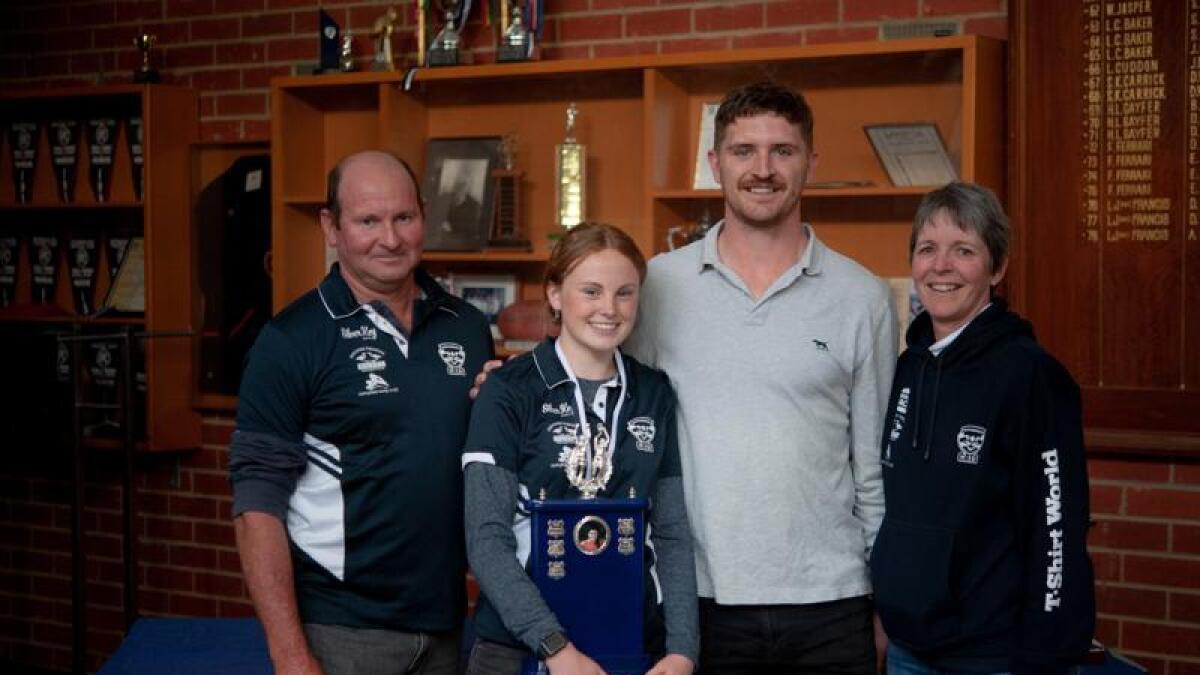 The Rutherglen Cats Football Netball Club held their junior presentation day on Sunday, November 14.
Charli Williams was announced the winner of the highly respected Jess McLennan memorial award.  This award is open to any netball player under the age of 18 with a focus on positive attitude, leadership and club involvement.  Charlie is the fourth winner of this coveted award.
Special mentions also went to Rory Beattie who was the Runner up Best and Fairest in the TDFL League vote count for the under 14's and Sam Edmonson, Runner up Best and Fairest in the TDFL League vote count under 17's.
Netball award winners for 2021
Congratulations to all of our netballers for a great season in 2021. The teamwork, sportsmanship, support and dedication all of the girls showed, when winning or not, was second to none.
From midgets, all the way up to our under 18s, everyone has done themselves and the club very proud in 2021. Hope to see you all back next year.
Thank you to all of our coaches, Dennis, Emma, Lucy and Sarah for their amazing leadership and guidance. The girls definitely wouldn't have had such an amazing year without you all.
Thank you also to all of the team managers, umpires, scorers and volunteers for our netball games. The games couldn't go ahead without you all.
Under 17 RFNC Award winners
Congratulations to the entire team of under 17 boys on a fantastic season. Just like the 14s, the 17s were due to play finals but due to Covid restrictions it didn't happen. I'm sure they would have made it all the way to the big dance.
A lot of these boys have played at RFNC since they were Auskickers and are now moving on to senior football. The club hopes you have all enjoyed your time as a junior at RFNC and look forward to joining the senior ranks.
For the boys continuing in the 17s next year, the club wish you all the best as you become the leaders in the team.
Well done boys, Rutherglen Football and Netball Club are lucky to have you all involved in with the club.
Thank you to Matt Andison and Bennett Thomas for coaching our young men in 2021, we are grateful for your time and effort.
Under 14 RFNC football team awards
A huge congratulations to the under 14 team for 2021. An absolutely super bunch of boys, some who have played for many years together, some coming in for their first year of football.
Unfortunately the boys didn't get a chance to play the finals that they were hoping to, but made the most of the game opportunities that they had throughout a disrupted year.
Thank you to Mitch, Hayden and Tyler for coaching the boys this season and all
of the boys who played their best and hardest all year.
Football Awards - Junior U14's U17s Netball Awards - Junior U13s U15s U18s JESS MCLENNAN AWARD Best and Fairest Tom FordLuke NicholsonArcher ColvinBest and Fairest Runner Up Rory BeattieMost Consistent Rory BeattieMost Courageous Fred JacksonMost Improved Sonny Enever-CooperCoaches Award Shaun GunningGoal Kicking Luke NicholsonBest and Fairest Tori OatsBest and Fairest Runner Up Jack KeysMost Consistant Indhi KotzurMost Determined Fin MandersonCoaches Award Charlie JamesBest 1st Year Player Tyler BenbowLeading Goal Kicker Sam EdmonsonBest Backman Declan PeacockBest and Fairest Violet FisherBest and Fairest Runner Up Keely SymondsMost Improved Olivia WilliamsBest and Fairest Annie JohnsonBest and Fairest Runner Up Freya GnielMost Improved Sarah TrevaskisBest and Fairest Savannah LewisBest and Fairest Runner Up Abbie HetheringtonMost Improved Emma HughesCharli Williams