Life Member of both clubs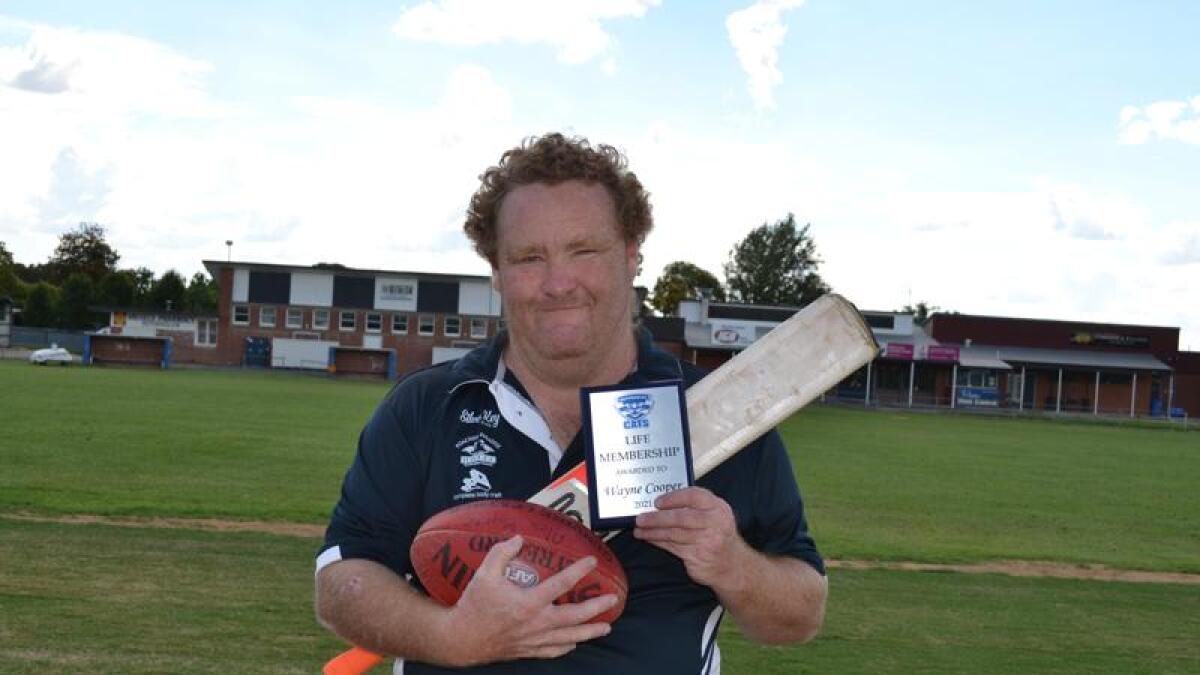 Wayne Cooper spends a huge amount of voluntary time at Barkly Park in Rutherglen – the home of the Rutherglen United Cricket Club and Rutherglen Football Netball Club.
At the club's football netball awards night for 2021 on November 27, the 44-year-old was presented with life membership; in 2009 he was made a Life Member of the cricket club.
In presenting life membership last Saturday week, president Greg Lumby said Wayne started going to the footy in the then Coreen and District Footy League in the early 1980s as a seven-year-old.
"At that early stage he would run water to the players, boundary umpire and goal umpire and the juniors when required.
"He then progressed to hanging around the trainers room where his Uncle Tony (Slope) began to show him how to do strapping and perform rubdowns on the players. As time went on he did a number of trainers and First Aid courses so as to able to stay involved.
"For someone that has never played much footy he is certainly in his fair share of photos down in the clubrooms as team mascot."
Wayne continued to do more than his fair share of work around the club over the many years to follow according to Mr Lumby. "He joined the now Cats committee in 2010, a role he still fulfils today," the president said.
"In his time on the committee he has continued to help out wherever possible, performing duties as bar manager, including all the ordering and stocktakes and 'kicking' people out at the end of functions - a job none of us enjoy."
Wayne's other significant involvements mentioned by Mr Lumby were Under 12's coach, team manager, on call for the security system.
"Any job that needed doing and usually someone else didn't want to do it, or didn't turn up, or it was pouring rain, I would go to this guy and he just couldn't say no.
"Umpiring was another one of these duties, a job that a lot of the time nobody wanted to do, and this bloke would do - a lot of the time at short notice, cause someone else would pull out. I can't believe how getting the abuse he received didn't worry him, and at time I think he thrived on it!"
It gave the president enormous pleasure in presenting Wayne his Life Membership, and follows his mother Margaret who is already a Life Member of the club and recently celebrated her 80th birthday.
Of his latest, football life membership, Wayne said: "Unexpected, great honour and a bit humbling to be mentioned in the same group with the likes of Greg Lumby, Darren Hatton, Wayne Milthorpe, and also great my Uncle Tony nominated me."
Throwing in cricket life membership, to make it two life memberships at the same club, he commented: "Pretty amazing, wouldn't happen often!"
Wayne becomes the sixth cricket life member, the 55th football life member and joins Grant Steed in being a Life Member of both clubs.