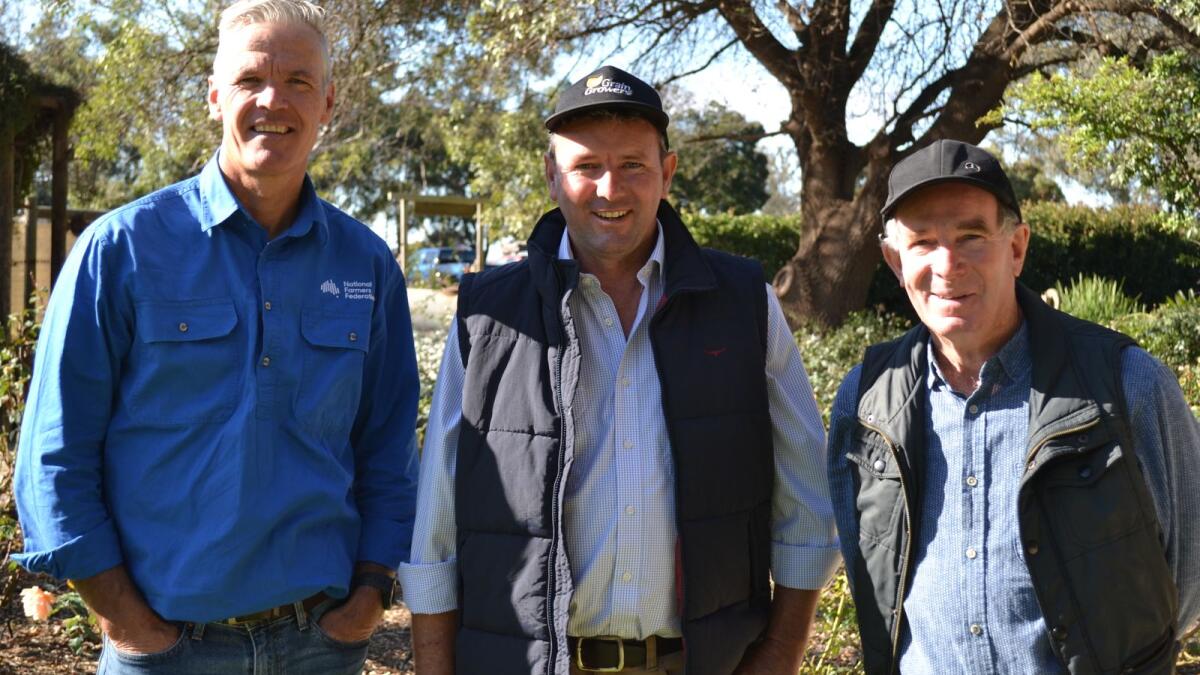 $1.5 billion needed for poor roads
Burramine took centre stage in Victoria last week for various agricultural leaders who are pleading for $1.5 billion over three years - $500 million a year –from the Federal Government to improve country roads and infrastructure throughout Australia.
The impact of poor road quality on the agriculture industry and the community was the subject of the special event held on-farm at fifth-generation grower Peter Lawless' property in Burramine on Monday, May 2.
The event was hosted by Graingrowers as the Federal election is due later this month, on May 21. Political candidates, agricultural membership bodies including National Farmers Federation and Victorian Farmers Federation, and Victorian growers met at the property of, for an informative, on-the-ground discussion. It was the only such discussion in Victoria in the lead-up to the federal election.
"We chose this location because it is a contested seat (Nicholls), it just seemed a good fit," Graingrowers Chair and Victorian grower Brett Hosking told the Free Press.
"We are wanting to see $1.5 billion spent on fixing up country roads and infrastructure throughout Australia over the next term of the Federal Government."
The chairperson from Quambatook mentioned the obvious funding shortfall emanating from the three levels of government.
"There is a gap between Local government with its funding availability and what's required to provide much improved, good quality roads and safety issues," Mr Hosking said.
The significance of Australia's 22,500 growers produce over 60 million tonnes of grains including wheat, barley and oats, oilseeds like canola and pulses such as chickpeas, lentils and beans producing over $20 billion to the nation's economy - beginning in rural communities.
Especially during the past two years with the Covid-19 pandemic, the agriculture industry has been so important for the economy, highlighted on Monday by a comment from the Chief Executive Officer of the National Farmers Federation from Canberra, Tony Mahar when he emphasised that today: "Agriculture is the powerhouse of Australian industry."
Mr Lawless and his family grow wheat and canola and run livestock at Burramine. A stalwart of his community, he is Deputy Mayor of Moira Shire Council as well as a representative for growers on various industry committees and boards.
He has seen first-hand the effect a lack of federal and state funding has on the quality of the roads.
"Some have deteriorated to the point where they are no longer suitable for modern farming machinery and transport requirements," he said.
The impact of substandard road quality - directly attributed to lack of proper and adequate funding - is not only measured through loss of agricultural efficiency and time, but also translates to significant safety concerns for families and communities.
From potholes to eroded shoulders, Mr Peter Lawless has witnessed maintenance efforts shift from extensive repairs on stretches of road to 'band-aid' solutions where a single pothole is repaired because that is all the funding will allow.
"Currently, growers either need to reduce their speed or do multiple trips in smaller combinations to minimise the risk of an avoidable road incident," he said.
"These are short-term solutions and do not address the ongoing issue of deteriorating road quality."
Mr Lawless primarily wants to see a commitment to increased and continued funding from all levels of government for roadworks, not only for his family and his community's safety but to improve efficiencies in farming practices by getting produce to market in a timely fashion.
His views are shared totally by Federation Council Mayor Pat Bourke.
"Our Federation shire is one of the largest grain producers in Australia with so much road transport from farms to silos," he said.
"Roads are something we always have a problem with and always will. Because of our massive production each year, there's just so much wear and tear on our roads and we have a very large road structure.
"We'd like nothing more than a massive injection of federal, and state funding for our country roads."
Mayor Bourke highlighted the poor or deteriorating roads throughout NSW.
"Whenever I'm with other mayors, be it at formal state conferences or just with neighbour mayors, the neglect of our country roads and the need for many more millions of dollars is always mentioned," he said.
"It's not just our massive grain production that we need to have good quality roads, we need the good standard roads for our kids to go to school on buses, for people just to go about their normal daily business.
"Whenever we receive state or federal funding, its welcome. But I can only emphasise we totally support any push for a large injection of road funding."