Roos suffer narrow defeat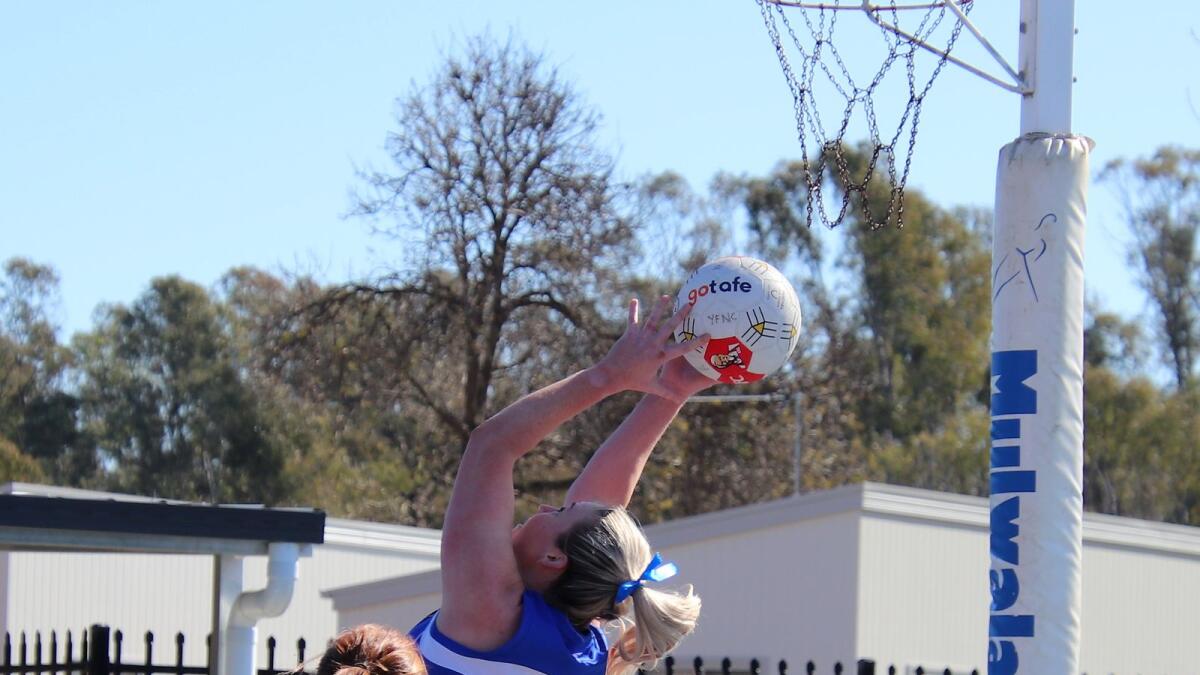 Flag favourites Corowa Rutherglen have suffered there second straight loss in a nail-biting game against Yarrawonga last Saturday.
The Roos were determined to redeem themselves after their previous loss to Lavington the week before, but despite a gallant effort, they walked away two points short of victory.
Grace Senior was in her usual impeccable form, shooting 36 of the Roos goals making the most of Brooke Bice and Maddi O'Keefe's strong attack against the Pigeons.
B Grade's game also went down to the wire and although there were a few errors made, the Roos fighting spirit and united team front was back on stage. The coaches said they were proud of the two grades for digging deep in what will be good prep in the coming weeks.
The Senior Roos currently sit on top of the O&M ladder ahead of Yarrawonga, Lavington and Wangaratta.
A Grade
Roos 43 defeated by Pigeons 45
Club 1- Brooke Bice powered her way through the game with plenty of grunt playing both sides of the bib
Club 2- Madi O'Keefe explosive off the line, Madi excelled in speed and steadied the attack end
SportsPower- Grace Senior did a power of work in the ring her agility is a standout in the ring
Canteen & MVP- Emily Laracy had another top game. This defender is causing havoc weekly for opposition attackers
B Grade
Roos 44 defeated by Pigeons 46
Awards: Club 1 & MVP- Lisa Tobin-strong in the ring, Lisa left no stone unturned.
Club 2 Lucy McInnes- stand out game with plenty of defensive pressure holding up the Yarra attack end.
Origin Clothing- Zali Spencer worked tirelessly to create turnovers and keep the score in check.
Canteen Ella Kingston - back from Melbourne, Ella was a standout, safe with the ball and a work horse through the mid.
C Grade
Roos defeated 29 by Pigeons 42
The C Grade had good patches of play, but they lacked the consistency over the four quarters to push Yarra. The girls need to regroup with the week off and come out firing in round 16.
Awards: Club 1 & MVP - Kyah Harvey - Consistent mid court game. She kept her head especially playing against her old club.
Club - Shelby Richardson - Played a tight WD game. Great hands over the ball which resulted in getting some tips and loose balls.
Docs Award- Ro Black - Great body on body against a tall opponent.
Canteen award - Grace Eales - welcome back to the court Gracie. Worked well with the special goalers.
Under 17s
Roos 27 defeated by Pigeons 54
Coming towards the end of the season the girls still have a great chance of making finals. Unfortunately, a slow start by the girls against Yarra was tough for them to come back from.
The Roos defence end worked hard all day for turnovers that were hard to come by. Yarra's possessional game was tricky to crack.
The attackers mixed the ball around well against solid defence. In the last quarter, the Roos mixed up the line-up which gave an injection of energy into the team which was really positive.
Awards: Club 1- Charli Andrews- Always a ball of positivity and works hard for each teammate.
Urban Graze- Savanah Lewis - Played a beautiful defensive game today and then worked hard in C, which was a different position for her.
Sportspower- Riley Shanahan- Ever reliable. Continued to drive hard down the court and work hard in defence.
Canteen- Felicity Lincoln - Very solid game in defence. Played a great role in bringing the ball down the court.
MVP - Eloise Black - worked hard in defence with a great reach and rebounding.