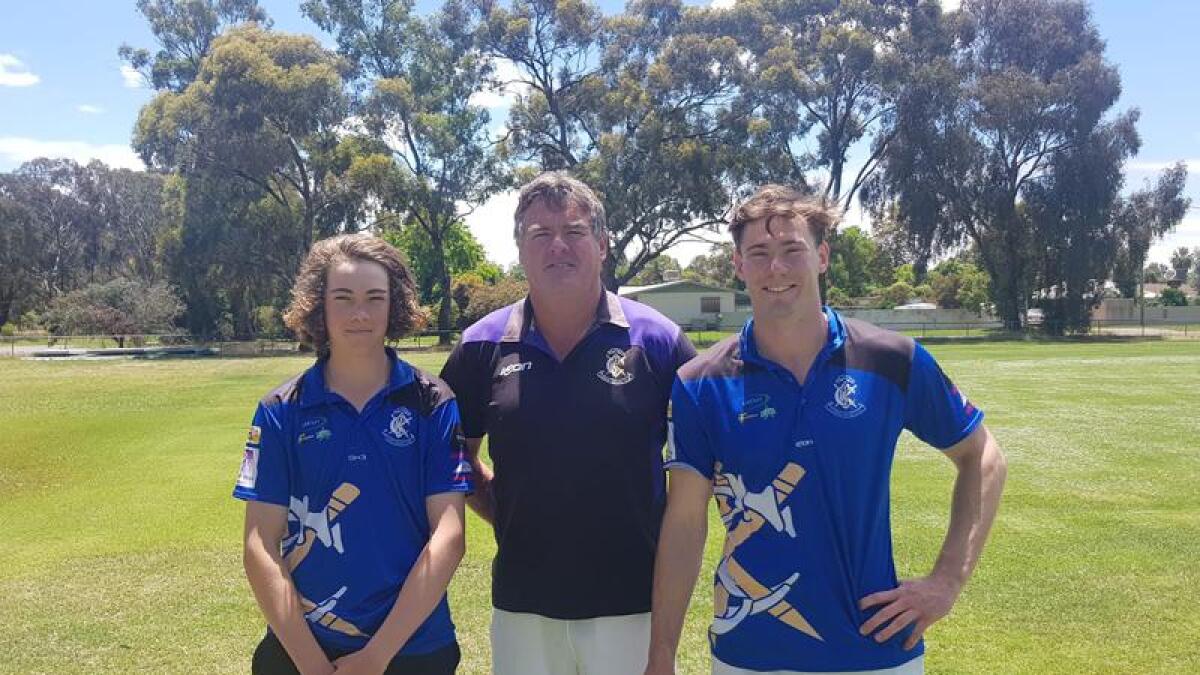 Corowa's A Grade has climbed to third on the cricket ladder following a never-say-die attitude and a resulting 21 run victory over Tallangatta last Saturday.
This Saturday, at home at Ball Park, the Roos will play a double header, against the dangerous New City from 11am then the undefeated North Albury at 3:30pm.
Last Saturday, A Grade travelled to Tallangatta for the ninth round of T20s. The week's wet weather meant that the earlier B Grade game had to be called off due to the ground needing a few more hours to dry out. Thanks must go to Tallangatta for letting us know as early as possible B Grade would not go ahead and then to get the ground up to standard for the A Grade fixture.
With the pitch dry but the outfield damp Corowa won the toss and elected to bat, openers Matt Grantham and Matt Wilson again made a solid start taking the score to 26 before Wilson played on. Grantham was then run out attempting to take on a quick single for 15, Ryan Beveridge and Kaelen Bradtke combined for a 32 run partnership - once again featured with excellent hard running and strike rotation with the sluggish outfield making boundaries impossible to come by.
When Bevo was caught for 17, Jarred Lane came to the crease and the scoreboard continued to creep towards a competitive total. KB was runout attempting to turn a one into two which had been the most effective way to score on the day, Lane was bowled with the score on 86 before Jesse Moloney 11 not out and Will Seymour in his first A grade game for the year pushed the score to 99 at the close of innings.
A competitive score, however with the home side boasting last season's league leading run scorer Shoab Shaikh paired with captain Matt Armstrong at the top of the order, opening bowler Nick Grant would need to be on the mark from the outset. First ball he delivered with a wide long hop which Shaikh slapped straight to Jesse Moloney at cover was well caught just above the ground to deliver Nick with his first wicket of the season off the worst ball he's bowled all year!
After some gentle encouragement, a disappointed Shaikh left the field. A partnership of 47 between Armstrong and Neville put Tallangatta in a strong position albeit a little behind the required run rate due to some tight bowling. Neville was undone trying to take on Luke Backhouse who went about his weekly routine of strangling batsmen into error resulting in a good catch to Bradtke. Mark Athanitis then had Armstrong caught by Matt Wilson and removed Paton next ball to swing the game in Corowa's favour. The team's strength all season has been strangling sides batting with disciplined bowling and athletic fielding and this was no exception. Turning the screws on Tallangatta forcing 3 wickets to fall with the score on 56, Mark, Kaelen, Nick and Jarryd Hatton kept the pressure on Tallangatta holding them to 9 for 78 after the 20 overs. In a true team effort all bowlers picked up a wicket with Mark Athanitis leading the way with 3 for 17, Hatton 2 for 13 and Nick Grant and Luke Backhouse miserly with 1 for 10 apiece off their four overs.
Alex Lavis made his A Grade debut and contributed a flawless wicketkeeping effort behind the stumps in very difficult conditions due to some inconsistent bounce, reaffirming the club's excitement at how his glovework is developing.
A powerhouse batting display by Billy Raggett guided Corowa C-Grade Division 1 to a big victory on Saturday. The match was also highlighted by some sharp catching, with two fielders sharing in seven catches. Raggett hit seven sixes, mostly over backward square leg but one or two over cover, on his way to a more than run-a-ball 82.  Raggett enjoyed good partnerships with John Conroy (35) and Liam McDonell (28) at the top of the order.  When the big-hitting Raggett went, Roshan Gautam (three boundaries) and Jack Downing (four boundaries) kept the scoreboard ticking over with perfect cameos, hitting 23 apiece as Corowa reached 228 from the 40.
With a healthy total to defend, Corowa went about their fielding enthusiastically and it resulted in some memorable moments. Gautam got the ball rolling with a back-pedalling catch at square leg to get the innings underway off the bowling of McDonell (3/31). Things escalated when Downing snaffled four catches in and around cover, including Lavington Black's danger man who hit a sharp catch off the bowling of Danny Osborne. Blayre Smith did his fielding reputation no harm with three of his own, including a stunner to rival Downing's cover catch, when Smith ran backwards and leapt to hold onto a classic at mid-on. Left arm quick Taj Smith (3/6) wrapped up the tail with some help from offie Riley Allan (2/4) to cap a 120-run win.
C Grade Div 2 have made two wins in a row with a thrilling one run victory over St Patricks at Morris Park.
With Rod Lane making a one-off appearance with his two sons Jy and Ethan, Corowa was asked to bat first. Corowa lost an early wicket, before brothers Jy and Ethan Lane added 26 with Jy looking dangerous in his first game in six years before he went for 18. Ethan also made 18 and Cam Wilson made 17 but Corowa continued to lose wickets as they fell to 7 for 68 in the 20th over. Jed Griffin, also in his first game for five years, batted brilliantly making 34 as Corowa pushed the score along to 116 before being bowled out in the 36th over.
Jy Lane showed he still has some pace taking two early wickets, but St Patricks looked on top at 2 for 49 in the 12th over. Justin Lewis and Ethan Lane picked up wickets through some good catching by Griffin and Brydon Robins, but at 4 for 71 after 20 over St Patricks was still in control. A great spell by Marc Playford after the drinks break changed the game with three quick wickets and when Ned Harvey chimed in Corowa was on top with St Patricks 8 for 81. Robins collected the ninth wicket with St Patricks still needing 23 for victory. Aaron West of St Patricks had other ideas smashing the next over for 20 and when a wide was called first ball of Robins over, St Patricks only need two runs to win.
However, Robins held his nerve and when an appeal for LBW was upheld Corowa was victorious by one run, bowling out St Patricks for 115.
B Grade and all the Juniors didn't get a start due to the weather. Batting allrounder Jay Lavis is one of six players from CAW named in the Riverina team for this weekend's Bradman Cup matches at Robertson Oval in Wagga Wagga. Saturday is a 50-over game against ACT Southern Districts while on Sunday, there are two T20s against Western and Greater Illawara.
The Club would like to acknowledge our sponsors for this season, A & A Auto, Davidson White Accountants, John Rhodes Bricklaying, Waldrons Fresh on River, Dunn's Twin City Cranes, Kilara Group, Nutrimax, McLardy McShane, Hotel Australia, Collins Transport, O'Connors, Corowa Pump Shop, BPR Engineering, Upton Engineering & Corowa RSL Club.